If you have a business thats listed on Google, you are most likely familiar with the concept of Google reviews. These are feedbacks or opinions your customers leave on your Google Business Profile based on their experience with your business. These reviews can be graded on a star rating system ranging from 1star to 5 stars, with 1 being the lowest and 5 being the highest. In this article we will discuss in detail how the average rating system works, why it is absolutely critical for a business to maintain a positive star rating, some best practices for managing your star Ratings, avoiding common mistakes, and how it can be used to improve your Local listings.
What is a Google Star Rating system?
As the name suggests it is a rating system graded from 1 to 5 stars used by Google to show how well a business has performed based on reviews left by its customers on their Google My Business profile. The star rating of a business is calculated as an average of all reviews posted and its relevance is also based on factors such as total number of reviews, overall tone of these reviews and how relevant they are to the business.
The higher and closer to 5 a star rating is for a business, the better it is considered for online reputation and hence could attract more traffic and customers to its services.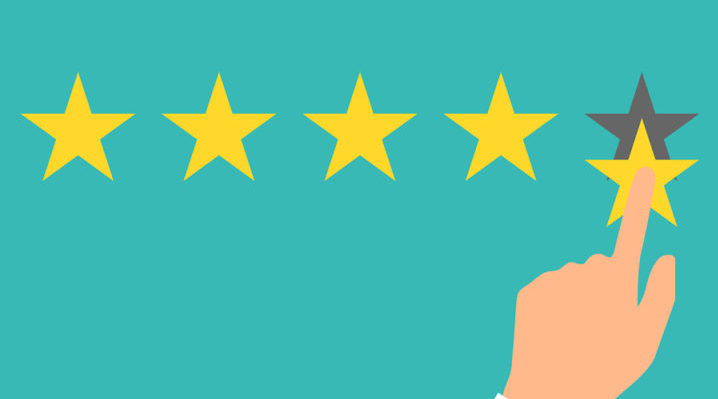 How does Google calculate the average star rating?
The algorithm thats behind calculating the average isn't publicly available for scrutiny, and Google is vague on how does it actually calculate the displayed average but from research and the number displayed for business we can safely assume that its an arithmetic average from the sum total based on the number of times it has been reviewed.
e.g If a business has four 5 star ratings and two 4 star ratings then its safe to say that the average would be 4.8 stars. But the complexity with which its calculated increases as the number of reviews goes up, lets take an example of our very own Google my Business profile
We have an average of 4.7 stars based of 86 reviews in total ( 10th oct 2023)
1 star reviews – 5
4 star reviews – 2
5 star reviews – 79
Yet our average is just 4.7, this goes on to prove that the arithmetic average is not the only factor beyond a certain number of reviews. (see image)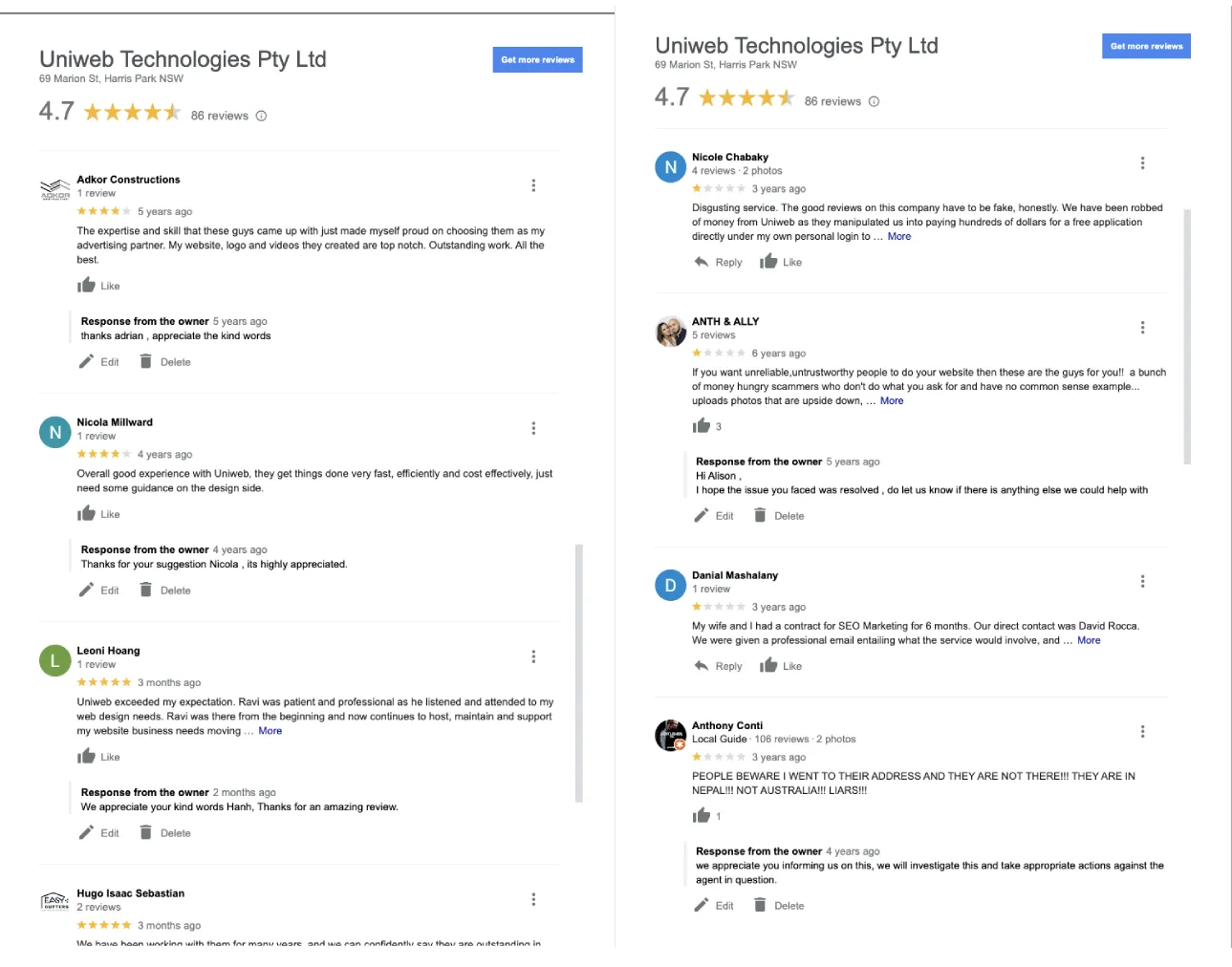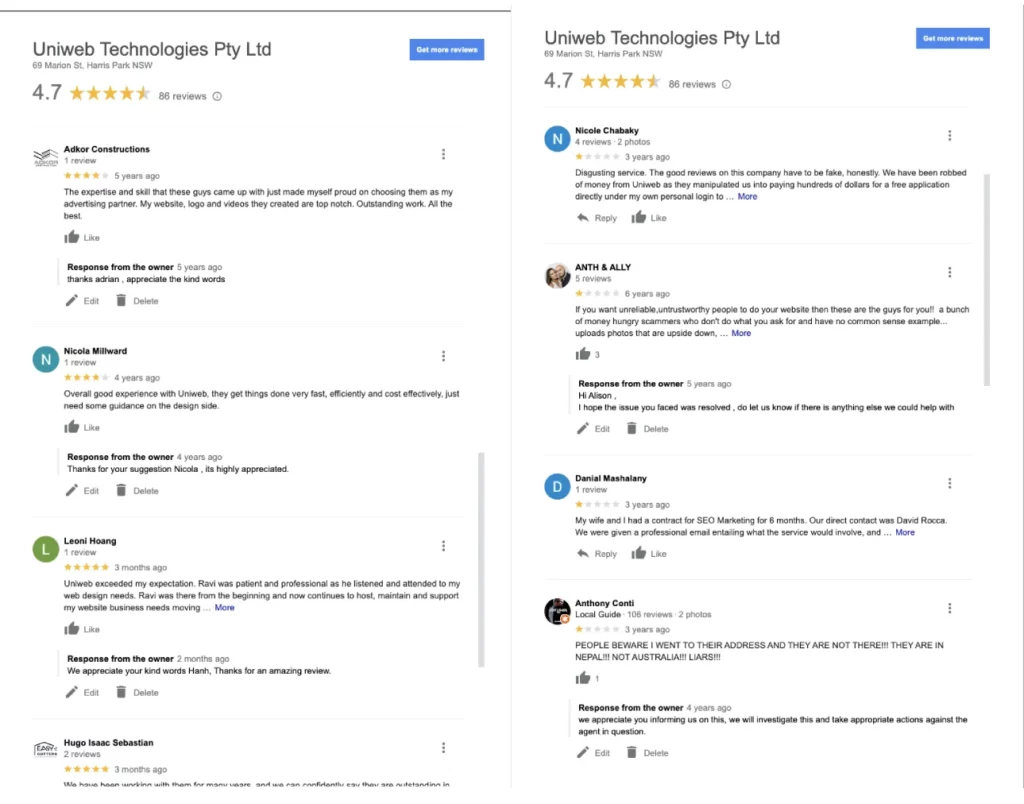 Is Google Star Rating Important for a business?
The reviews based star rating system is not considered as a factor that directly effects organic ranking but is absolutely critical for your business profile placement in the coveted 3 pack listing of Google Maps. If you intend to rank on Local listing and be found then it has to be one of the most important things to focus on your local SEO efforts. Here is why the number of stars on your rating is important for your success:
Trust:
Positive reviews and high star rating are always considered trust worthy and clients tend to interact and buy off businesses who have a star rating close to 5 then with ones with lower star ratings. A star rating of 4.5 and above is a must if you would like people to consider your services over your competitors.
Visibility:
A higher star rating simply equates to better visibility on local searches. If you are seen more, the chances of you landing customers is higher than your competitors with star rating lower than yours, simple math right?
Conversion:
Research time and again have shown that people tend to engage or buy from businesses with higher star ratings. If two businesses offering the same service end up on the short list with one having a star rating of 4.8 and the other having a perfect 5, Its seen more often that the one with 5 stars ends up being the choice. Even though as a customer you should take into account factors like the number of reviews and the overall sentiment, overwhelming majority of customer seem to simply prefer the overall rating number on the profile.
Supercharge your Local SEO with our comprehensive SEO package in Sydney
What should you do to increase and maintain your star rating ?
Now that we have established that having a higher star rating on google reviews is important to succeed locally online, here are a few steps to follow in order to create, increase and maintain your star rating of Google reviews:
Create a Google My Business profile for your business or gain ownership if its seems to be active online.
Make it easy for your customers to leave reviews, send followup emails, have links on your website etc.
Respond to all reviews, positive and negative. Appreciate and thank positive ones and address the concern raised on the negative ones with promises to work them out.
Report fake reviews posted with an intention to hurt your star rating system, Google has a system in place for business owners to easily do that. Follow this guide
To whatever extent possible, request your customers to include keywords relevant to your business in their reviews, helps google better sort your business listing and rank your accordingly.
Note: While it might be very easy to think that you can have your friends and family write you fake reviews to prop up your star rating, do not fall for this as this would do more harm then good in the long run. Google has very complex algorithm in place to detect and penalize such attempts. Traffic patterns, IP addresses, engagement and other minute details are all monitored carefully before a review is allowed to published on your website.
Quick Summary
Having a higher star rating of Google reviews can undoubtedly help your business perform better on local searches. The first thing one should work on is obviously the quality of service you provide as if thats better than your competitors then your customers will definitely notice and that would reflect on the reviews they leave. Solicit reviews from your customers, make it easy for them to leave reviews and constantly monitor and reply to all reviews while not falling for the trap of buying or endorsing fake reviews. Overall Google Star Ratings are a vital aspect of online reputation building and can significantly impact a business's visibility locally.