The National disability Insurance Scheme (NDIS) now supports over 500,000 Australians with disability across the country and as of march 2023, over 19000 registered NDIS providers are actively providing support. If you are a registered NDIS provider and want to have your services marketed then you are one among many trying to do the same. The best way to get started and have your services reach out is to get a website design for NDIS that is informative, has your services listed and can be accessed without hindrance by users with disability. The content on your website should be unique to your business, highlight your strengths and in this blog post we will get into details of the steps you can take to create a proper NDIS provider website and beat your competition.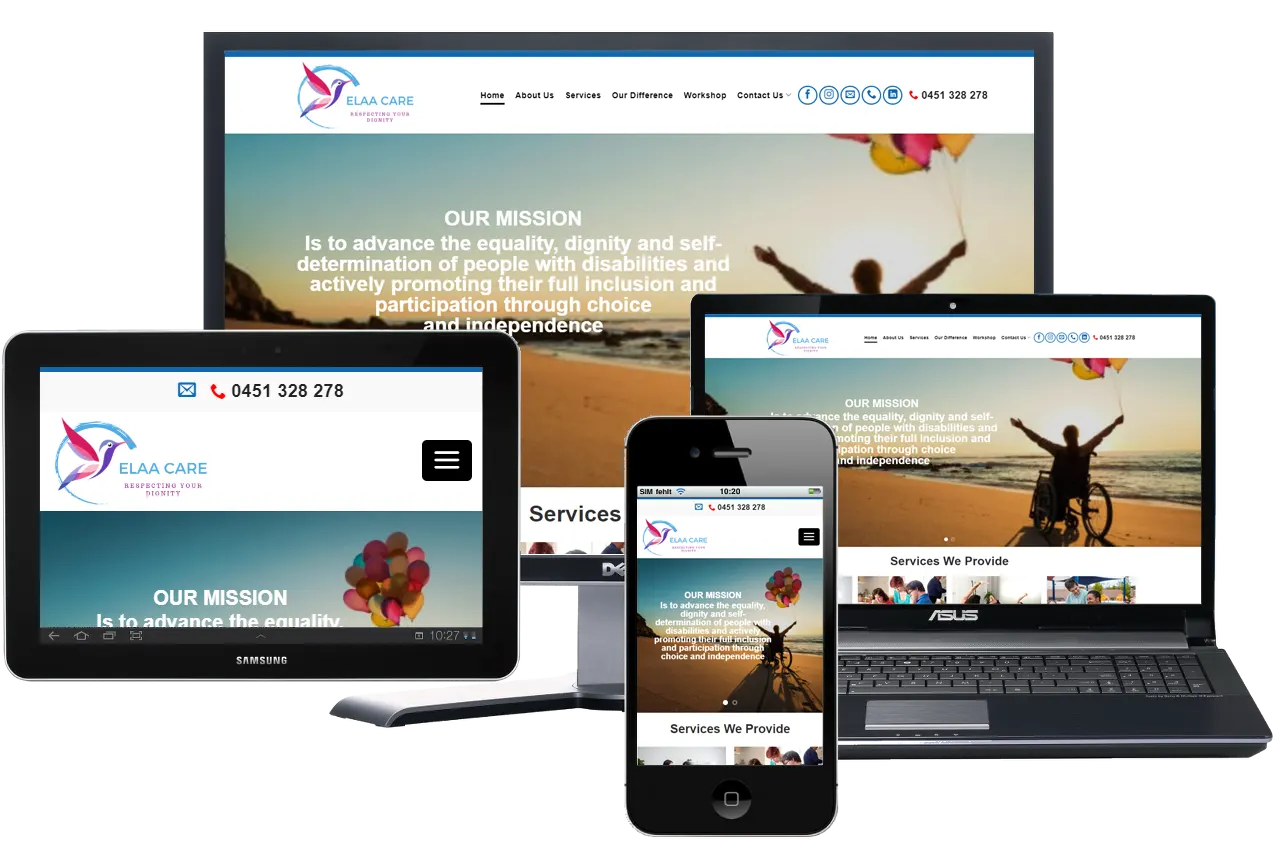 Hire a NDIS web designer 
contrary to what a lot of blog posts on the internet will lead you to believe, using free DIY tools to build your NDIS website is not something we recommend. You will end up with a below par design, template based structure and very little customization options. The website you end up with will do more harm then good to your online presence. Yes it will cost you money as any value based project would but find a web developer with experience building website for NDIS providers and customize it with the right set of tools and information for your targeted client to consume your content properly.  A website for your NDIS business, focusing on NDIS web design and properly coded, can enhance your online visibility as an NDIS provider. Setting up your website the right way will have tons of benefits in the long run: 
Your website traffic increases gradually
You get a cross device compatible NDIS website
Your website is optimized and written with SEO guidelines
You have a WordPress CMS for updating your NDIS website
Your website has accessibility features for disabled users
Now that we have established the importance and need of hiring an experienced  NDIS web designer Sydney to get your NDIS provider business online, lets discuss in details the benefits you would get as a result of having an functional and excellent NDIS web design.

1) Online Visibility
It is critical for NDIS providers to differentiate themselves in a crowded market. Your online exposure can be greatly enhanced, which will boost the likelihood that potential customers will find you. Employing relevant keywords like "NDIS provider" and "disability care" will help search engines better index and rank your website, increasing the likelihood that disabled people or their families looking for NDIS services in your area will find it and get in touch to discuss the option of hiring your services.
2) Highlight your services
With so many options available, people looking for your services wont be happy with just a phone number anymore. They want to get to know their service provider, the story behind the person who runs it and what to expect in terms of NDIS services offered.
A well coded informational website allows you to showcase in detail the range of services you provide as a NDIS service provider and answer queries in detail of that makes your different from your competitors. You can create dedicated pages for each service, providing detailed descriptions, eligibility criteria, and any additional information relevant to your clients. You can effectively express your knowledge, inspire trust in potential clients, and set yourself apart from competition by clearly and concisely outlining the services you offer.
3) Earn your Client's trust
Your website is your first line of contact with a potential client, and based on how well your website is designed and laid out decisions will be made wether or not to engage you as a NDIS service provider. Your NDIS business's website effectively serves as a virtual showroom. It provides you with an opportunity to build credibility and trust with your target market. Visitors to your website anticipate seeing accurate and current information about your offerings, client endorsements, and any necessary qualifications or accreditations.
Potential customers are more likely to trust you as a dependable NDIS service provider when your website is designed professionally.
4) Connect with your clients
The capacity to communicate and interact with your target audience is one of the major benefits of building website for your NDIS business. To expedite contact and make it simpler for customers to communicate with you, you can add tools like contact forms, live chats, or appointment scheduling systems. Additionally, incorporating social networking icons like Facebook, Instagram, Tiktok etc and blog sections enables you to share insightful information, business news, and triumphs, further showcasing your know-how and dedication to the NDIS community.
5) Accessibility 
A NDIS business is different from regular businesses in the sense that a vast majority of your clients will have disabilities in some form and hence is crucial for NDIS providers to foster an inclusive environment for all people. It is possible to optimize a website's coding for accessibility, ensuring that users with impairments may simply explore and engage with your site. Including tools like text resizing options, captioned movies, and alt text for photos enhances user experience overall and displays your dedication to accessibility, which is in line with the NDIS's guiding principles.
Conclusions
Based on our assertions it goes without saying that a  well-designed and educational website is a must for NDIS businesses in the modern digital environment. You can increase your online visibility, highlight your services, establish credibility and trust, establish a connection with your target audience, and promote an inclusive online environment by investing in NDIS web design by building a professional website. As an NDIS provider, building a strong online presence through an informational website is an important step that will help you succeed by allowing you to reach and help more members of the NDIS community and staying on top of your market.
If you are a NDIS service provider, contact us today to discuss how we can help you succeed by building your custom website.